Full Name: Drew Blythe Barrymore
Born: February 22, 1975 in Culver City, California
Parents: John Drew Barrymore and Ildiko Jaid Barrymore
Children: Olive Barrymore Kopelman (born September 26, 2012)
Frankie Barrymore Kopelman (born April 22, 2014)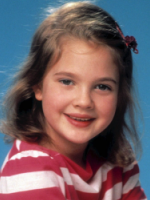 Drew Barrymore was born Drew Blythe Barrymore on February 22, 1975, in in Los Angeles, California. Barrymore is the daughter of actor John Drew Barrymore Jr. and Ildiko Jaid, but her family tree of actors doesn't end there: Her great-grandparents, Maurice Barrymore and Georgiana Drew, and grandparents John Barrymore and Dolores Costello, were also actors. Famous director Steven Spielberg is Barrymore's godfather.
Credited today as a talented young actress, Barrymore has been as well known for her wild antics off-screen as for her acting ability. Ildiko Jaid, estranged from husband John Barrymore Jr., began taking her daughter to auditions when Barrymore was an infant. The actress appeared in her first television commercial for Puppy Choice dog food before she was 1 year old.
Barrymore made her big screen debut at the age of four in Ken Russell's Altered States (1980). At the age of 7, she landed one of her most famous roles: Playing Gertie, the adorable little sister in E.T.: The Extraterrestrial (1982). The role pushed Barrymore into the spotlight. After working on the movie, she appeared on NBC's The Tonight Show with Johnny Carson, and became Saturday Night Live's youngest host.
However, Jaid soon began taking her daughter to night clubs, and it was at Studio 54 and the China Club that Barrymore developed a pre-teen fondness of drugs and alcohol. At 13, an enraged Barrymore became violent when she was unable to throw her mother out of the house. She was placed in a rehabilitation center, and later wrote of the experience in her autobiography, Little Girl Lost.
Because of her reputation as a wild child in trouble, film projects were slow to materialize. Barrymore made some minor films, including Irreconcilable Differences, Firestarter and Cat's Eye. In the 1990s, she began starring in a series of films that exploited her bad-girl image, including Poison Ivy (1992), Guncrazy (1992) and The Amy Fisher Story (1993), a made-for-TV movie based on the Joey Buttafuoco scandal.
In 1994, Barrymore entered into a short-lived marriage to bar owner Jeremy Thomas at age 19. The union lasted for less than three months, and the actress went on to make headlines for more controversial behavior, posing nude for spreads in Playboy and Andy Warhol's Interview, and then exposing herself on live TV to a shocked David Letterman during his Late Night show birthday celebration.
Barrymore's luck began to change in 1995, when she founded her own production company, Flower Films.
That same year, she gave a solid performance in the film Boys on the Side, co-starring with Whoopi Goldberg and Mary-Louise Parker. The following year (1996), she made a memorable terror-filled appearance in the blockbuster Scream, and co-starred in Woody Allen's musical Everybody Says I Love You.
In 1998, she proved her strength as a romantic leading lady when she co-starred in the popular comedy The Wedding Singer with Adam Sandler; and the film Ever After, a version of the Cinderella story, co-starring with Anjelica Huston.
In 1999, Barrymore earned her first credit as an executive producer with the likable comedy Never Been Kissed, in which she also starred. The following year, she produced and starred in the hit film Charlie's Angels, performing alongside Cameron Diaz, Lucy Liu and Bill Murray. The movie became a blockbuster hit, bringing in more than $40 million in its opening weekend.
Charlie's Angels signaled the beginning of true financial success for Flower Films. Barrymore's next choice for the company was the dark drama, Donnie Darko, starring Jake Gyllenhaal. The film, in which Barrymore also co-starred, became an instant cult classic and was nominated for more than a dozen independent film awards.
In 2002, Barrymore appeared as the love interest of Chuck Barris in the critically acclaimed biopic Confessions of a Dangerous Mind, also starring Sam Rockwell. Through this performance, Barrymore's reputation as a legitimate film actress was finally solidified.
Barrymore brought back her successful Charlie's Angels franchise in 2003, with Charlie's Angels: Full Throttle. This time, she also brought actress Demi Moore and comedian Bernie Mac on board, and the film was another box-office smash. That same year, Flower Films released the comedy Duplex, in which Barrymore starred with Ben Stiller.
The following year (2004), Barrymore starred in 50 First Dates, a romantic comedy co-starring Adam Sandler, again produced by Flower Films. Also in 2004, the actress earned a star on the Hollywood Walk of Fame. Flower Films—and Barrymore— kept busy over the next few years, producing such films as Fever Pitch (2005), Music and Lyrics (2007) and He's Just Not That Into You (2009). Additionally, the actress took roles in films like Lucky You (2007), Beverly Hills Chihuahua (2008) and the biopic Grey Gardens (2009), in which she co-starred with Jessica Lange.
In addition to acting, Barrymore has had a successful career as a model, becoming the face of CoverGirl Cosmetics and Gucci Jewelry in 2007. That same year, she was honored as the top pick on People magazine's "100 Most Beautiful People" list.
Barrymore has had a string of romantic relationships since her marriage with Thomas ended in 1994: In 2000, she became engaged to the eccentric Canadian comic Tom Green, of MTV's The Tom Green Show. After many false wedding rumors (some started by Green himself), the pair eloped in March 2001, but filed for divorce six months later. Following her relationship with Green, she dated Strokes drummer Fabrizio Moretti and actor Justin Long.
Barrymore wed Will Kopelman in June 2012. The couple had their first child, daughter Olive Barrymore Kopelman, on September 26, 2012. In an interview with Haute Living, Barrymore spoke about her excitement for family life: "I can't wait until I have my children," she said. "I just want to build fun, great things for my family." Their second daughter, Frankie Barrymore Kopelman, was born on April 22, 2014.
This information is provided from IMDB & Biography.com