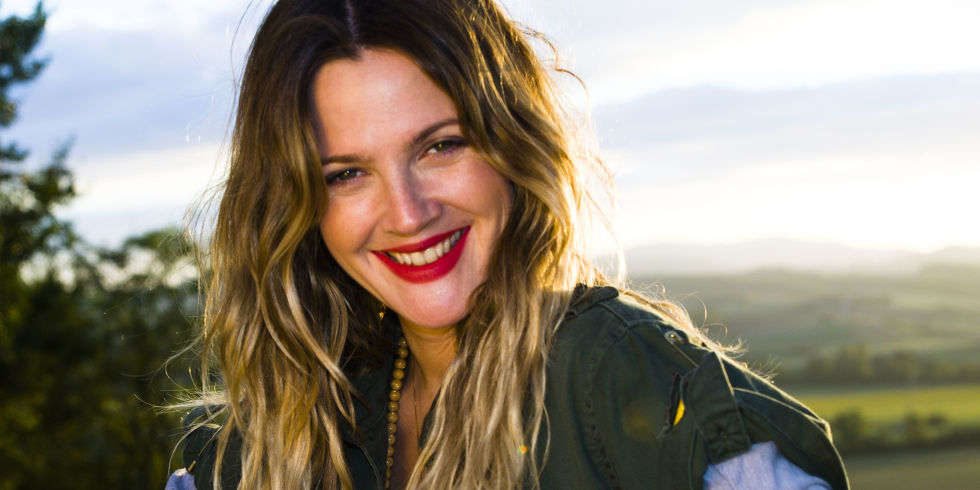 In her memoir Wildflower, Barrymore reveals what it's really been like living in the public eye your whole life.

In her new memoir Wildflower, Drew Barrymore opens up about her (truly) incredible journey—from child star to young woman in the spotlight to busy entrepreneur. Here, 10 things we learned from her fascinating book.

1. Barrymore's ultimate role model used to be Pippi Longstocking.

Although she had posters of Blondie, Superman, and KISS on her walls as a kid, her true idol was Pippi Longstocking. "Every day in Pippi's world was a chance to go down the Nile or fight pirates," she writes. "She made you feel like there was nothing you couldn't do if you put your mind to it."

2. She scattered her dog's ashes at Ghandi's house in India.

Barrymore got her dog Flossy when she was 19 years old. She took Flossy and her other dog, Templeton, everywhere with her: movie sets, offices, road trips. So, when Flossy died, it hit her hard. "I took Flossy to India and gave her a proper and fitting send-off," she writes. "The first place I spread some of her ashes was at Ghandhi's house in New Delhi. Then I took her to a Buddhist monastery way up in the Himalayas. And third, I put the rest in the Ganges River off a quiet path in the countryside. I thanked her over and over for her companionship."

3. Cameron Diaz is her daughter Frankie's godmother.

Barrymore is still really tight with her Charlie's Angels costar. She was one of Diaz's bridesmaids and made Diaz her second daughter's godmother.

4. She's a daredevil.

Diaz and Barrymore have been on amazing adventures together, including training kung fu for Charlie's Angels, scuba diving with sharks, and even sky diving.

5. Her scream broke the tape when she was auditioning for E.T.

When she was auditioning for E.T., which was originally called A Boy's Life, in 1982, Steven Spielberg asked her to prove she had the vocal chops for the flick. "I screamed so loud that I broke the device and the tape stopped," she writes. The audition scored her the life-changing role.

6. She gave Princess Diana an E.T. doll.

E.T. was such a massive international hit that Barrymore traveled all over the world to promote it. "All of a sudden, I was a girl with a stamped passport to my life's wildest adventures," she writes. "I was in Germany. Norway. Paris. England. I met Princess Diana and got to present her an E.T. doll."

7. Flashing David Letterman was a huge turning point for her.

During her "self-discovery" period, Barrymore flashed late-night host Letterman while making an appearance on his show. At the time, it felt like a fun thing to do for laughs, but when she watched the tape later, something clicked. "As I watched myself and my friends laughing from an objective perspective, I realized right then and there that this was the end of an era for me," she writes. "And so I started my journey into no sex scenes in movies, modesty clauses in my contracts, and a total lack of nudity in any public forum from there on out."

8. She wants to be buried under an avocado tree.

When she was growing up in West Hollywood, Barrymore spent her afternoons playing under an avocado tree. "To say that I ate 10 avocados a day off that tree was no exaggeration," she writes. "In fact the significance of the avocado tree is still as strong as can be for me. I even have it in my will that I want to be buried under one, or have some of my ashes put there."

9. She just knew she was supposed to work with Adam Sandler.

So she followed her instinct and, when she was in her early 20s, she "begged, borrowed and stole to get him to sit down with me" at a coffee shop to see if they could come up with a comedy tailor-made for the two of them. That's how The Wedding Singer was born. "I wanted us to be like an old-fashioned movie couple. He was my cinematic soulmate."

10. She's *very* protective of her plants.

After filming E.T., Barrymore has a traumatic memory of her mom calling in a gardener without warning her. "Someone had cut down the bougainvillea bush. I started to cry. This was beauty. This was nature," she writes. "We had lived here for seven years and no one had pruned or manicured anything and everything was fine! … I felt like everything was crashing down around me." Now she has a gardener who must consult with her before every snip.

You can buy Drew Barrymore's book Wildflower on Amazon.
(Source)