We all know that Drew loves to cook and has been trying to learn more about the culinary arts the past few years, well it appears that she and some gal pals took a girls trip to learn how to make homemade pasta! The Los Angeles Times gives us a run down of their trip.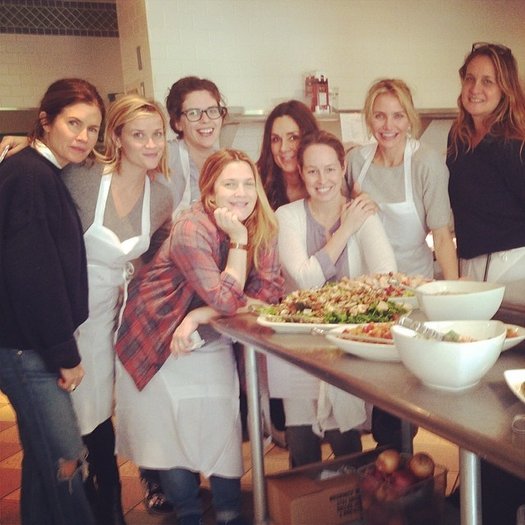 Reese Witherspoon and Cameron Diaz joined gal pal Drew Barrymore and others for a "girls trip" in Napa Valley this week that's giving us major culinary envy.

The A-listers headed up to the Northern California wine country on Wednesday for what Witherspoon, 37, dubbed #girlstrip2014, or what we want to refer to as "Charlie's Angels" meets "Eat Pray Love" with a dash of "Julie and Julia" and some "Legally Blonde" mixed in for good measure.

The leading ladies took a cooking class at the Culinary Institute of America in St. Helena, just north of Napa, at the majestic Greystone property. There they donned adorable white chefs' hats and were joined by stylist Leslie Fremar, makeup artist Gucci Westman, hairstylist Lona Vigi and food enthusiast Emma Daley.

The gang created several authentic Italian treats as part of the institute's "Cooking of Italy" course. Witherspoon made spinach ricotta ravioli, Diaz made lamb chops, Barrymore made fresh pasta and Fremar made pizza.

As with any getaway, the ladies snapped photos and shared some online with a healthy helping of teasing.

Diaz, 41 and the author of "The Body Book," snapped a shot of Barrymore running pasta dough through a pasta maker. A typo in her caption could be interpreted either as "making" or "maiming." Same difference, right?

"Thank you culinary institute of America ! I learned so much with my girlfriends #GT14," Barrymore said.

"What an amazingly delicious, educational, and ridiculously FUN time I had with these awesome ladies!!! … #CIA #napavalley #culinarylove #goodfoodgoodfriends #GT14, Diaz wrote, captioning a group shot of the ladies on Instagram.

Anyone else starving now?